Submittable scholarship management software helps organizations manage scholarships from start to finish. Whether your organization is big or small, a corporation or nonprofit, Submittable can help you manage your scholarship program. With Submittable, you can create and manage your scholarship database, seend out awards, and track your scholarship recipients. If you're shopping for a scholarship management solution and are considering Submittable, this post is for you. In it, we'll explore its pricing and features, and we'll share some alternatives as well.
What is Submittable Scholarship Management Software?
Submittable is a scholarship management software designed specifically to help organizations manage their scholarship programs. It's a great option for anyone who needs to track and manage multiple scholarships, or wants to create new ones as they're needed.
Why is Submittable most suitable for?
Submittable is intended for organizations with multiple scholarship programs, since it allows you to track and manage them all at once. The software is also perfect for those who want to create new scholarships as they're needed.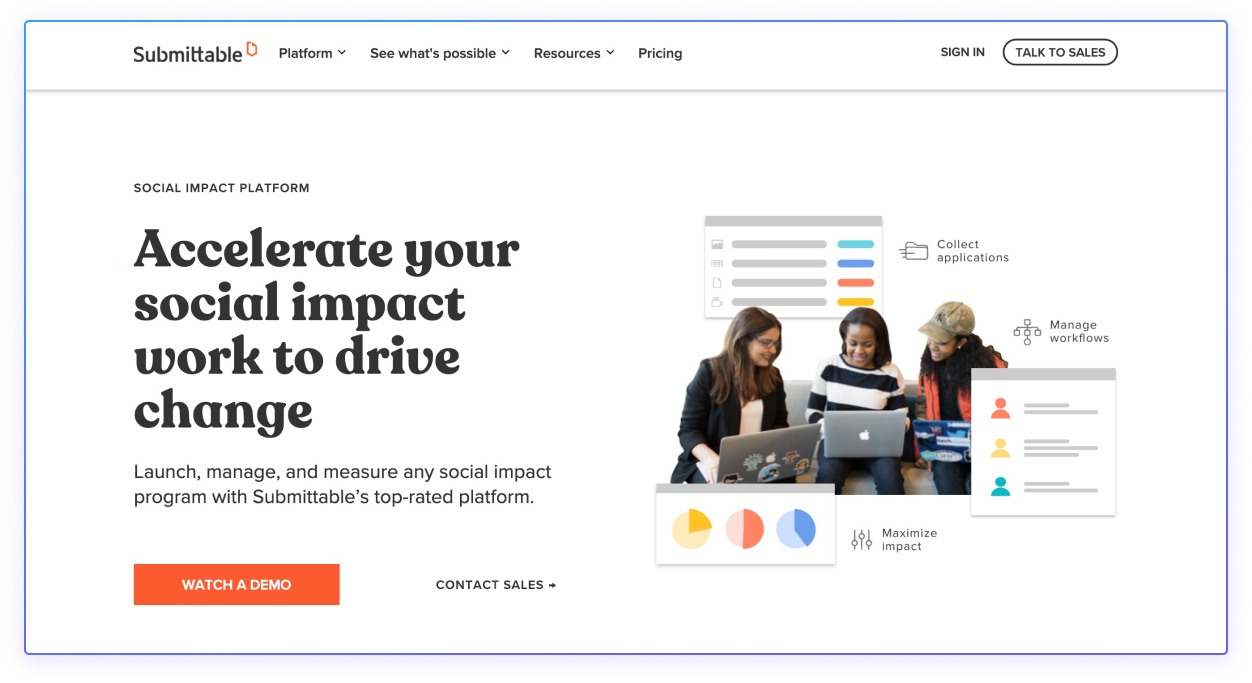 How much does Submittable cost?
Submittable allows you to create as many scholarships as you need, and offers three pricing tiers - Starter, Pro, and Enterprise - with additional features unlocking at every level. According to Capterra, Submittable pricing begins at $10,000.00 per year. However, the company does not share their pricing plans publicly. You'll have to book a meeting with them to learn exactly what your investment will be.
Submittable: What are their best features?
As mentioned previously, Submittable allows program managers to create multiple projects. Unlike many of the software on the market, even their lowest priced package allows for unlimited projects. Additional features include an online form builder, standard reporting, and online review tools. The Pro pricing tier adds more features including:
Screening for eligibility
Applicant collaboration in real-time
More advanced reporting
Integrations and single sign on options, and
Automated review
The final pricing tier, Enterprise, unlocks funds distribution, custom branding, premium support, professional services, and project management.
Is Submittable the right choice for your organization?
Maybe, but maybe not. If the pricing from Capterra's website is any indication of their actual fees, it's a significant investment that may be out of reach for some organizations. That $10,000 per year price might just be enough to have you looking for alternatives to submittable.com. While thousands of organizations use it, perhaps they are spending more than they need to when other platforms can do the same or better for less of an investment.
Alternatives to Submittable
There are dozens of alternatives to Submittable on the market, but rather than overwhelm you with lots of options, we'll focus on just three - Evalato, SurveyMonkey Apply, and SmarterSelect.

Evalato pricing begins at roughly $2,000 per year. We say that because their website pricing is listed in euros, and at the time of writing that is the rough conversion. This fee limits the user to 100 applications, and is priced per program.

SurveyMonkey is widely known for their survey forms, but in recent years has dipped into the job, grant, and scholarship application form business. Their pricing is on the higher end at $7,000 per year, and includes the ability to create multiple programs. However, the number of programs you're limited to and the number of applications you can receive is not publicly listed.

From a pricing standpoint, SmarterSelect may be the best option for your organization with costs starting at just $1,000 a year for unlimited programs and 500 users. Additional features and an increased number of users can be unlocked at the higher priced tiers. The Enhance plan, for example, allows for 2,500 users and unlocks features of online recommendations, app rules, autoscoring and more for just $3,000 per year. To get similar options with Evalato you'd have to pay for their €6900 per year (approximately $7200) plan and you would still be limited to just two programs!
SmarterSelect offers the best features and pricing plans on the market because we believe in non-profit pricing for every organization regardless of their size, mission, or structure! We are also proud to be transparent about everything we do from our available features to the exact amount we charge for every tier. Why hide that critical information from the public and make shopping harder than it needs to be?
Speaking of transparency, we'd love to offer you the chance to kick our tires and try out our features for yourself. We're betting that once you peek under the hood, you'll find our pricing is more than fair. See for yourself, and start your free trial of SmarterSelect today!