If you're looking for a comprehensive evaluation software, Evalato might be one of the options you're considering. It has many of the features you need to get the job done, saves you time, and is simple to use. However, if you've come to this page, you might also be looking into Evalato alternatives. In this post, we'll explore Evalato's pricing, features, alternatives, and more to help you decide if it's the best scholarship management solution for your organization.
What is Evalato?
Evalato is an evaluation software that helps you manage your scholarships and applications. It's simple to use and has a wide range of features, making it a popular choice for many organizations. On the other hand, Evalato is not the only scholarship management solution on the market. There are many Evalato alternatives, each with its own set of features and benefits.
Who is Evalato Most Suitable For?
Evalato is most suitable for organizations that need a comprehensive and easy-to-use scholarship management solution. If you're looking for a software that will save you time and help you manage your scholarships effectively, Evalato might be a good fit for you. It helps busy administrators manage scholarships, awards, and other financial aid programs.
Evalato: How is Their Pricing?
Evalato pricing begins at €1900 for up to 100 applications. At the time of this writing, that fee translates to just over $2,000. While the company does offer a free trial, that price feels a bit excessive to be capped at 100 applicants. You'll need to pay almost three times as much for unlimited applications. By the way, these fees are per program. To add additional programs will cost even more! The company's multi-program fees begin at €6900 for two programs and are an additional €1500 for every program on top of that!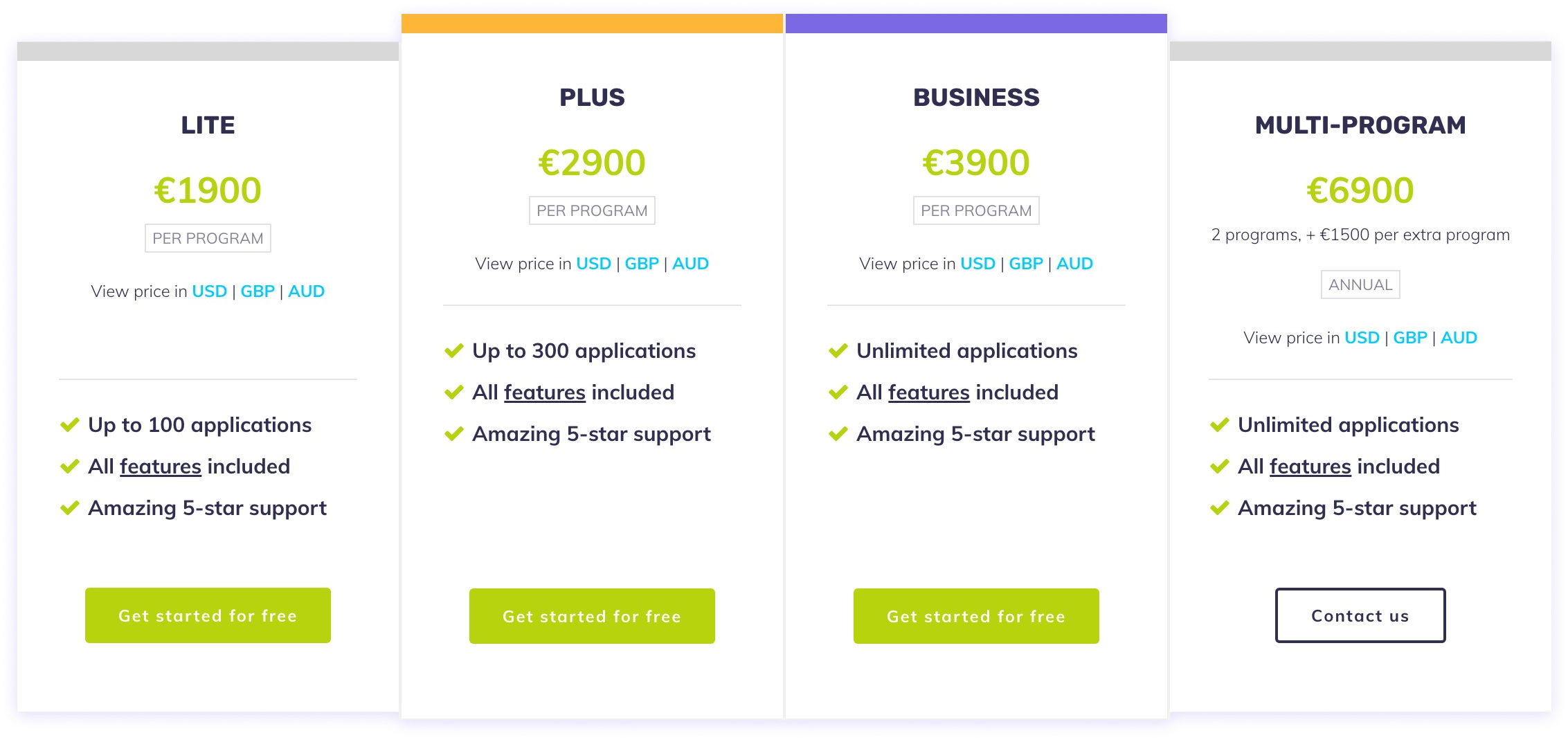 Evalato: What Are Their Best Features?
Features for Evalato scholarship management software include:
Brand identity including colors and logos
Embeddable registration form so you can direct people to your website
The ability to charge application fees
Customizable forms
Multiple evaluation rounds
Simple review and voting options to select candidates quickly
There are several additional features, but do all those features make up for the hefty price tag? Next, we'll look at some alternatives to help you decide.
Alternatives to Evalato
Just a few of the alternatives to Evalato scholarship management software are Blackbaud, Submittable, and SmarterSelect. Blackbaud's pricing details are not available publicly, but it certainly has high marks for customer service and ease of use on Capterra. However, it's worth noting that some users have complained that not all features work correctly, and their customer service department leaves much to be desired.
Submittable on the other hand is listed on Capterra with a price of $10,000 per year. Then again, the company's website doesn't go into detail as to which plan this fee covers. For that information, you'll need to book a meeting. Some users have shared frustrations with user limitations for administrative teams (i.e. the more people on your team, the pricier it gets to use). One user indicated there was a significant learning curve to understand how to use the software as well.
The best alternative to Evalato is SmarterSelect. We offer a comprehensive scholarship management solution that's easy to use and comes with all of the features you need, including:
Unlimited programs
An extensive program library with templates that make your workflow easy to set up
Online evaluation and pre-qualification options to prevent unqualified candidates from even applying
Top notch customer service
Automated messaging and more!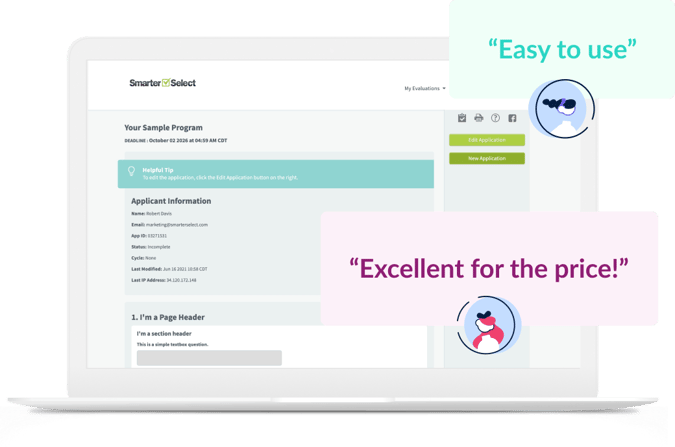 Best of all, SmarterSelect pricing is simple and straightforward starting at just $1,000 per year for 500 users. There's no set-up fees, and hardly any learning curve at all. In fact, you could have your first scholarship program up and running in as little as a day! If that wasn't enough, we also allow you to try before you buy. Click here to start your free trial, and see why thousands of organizations have made the switch to SmarterSelect!