Scholarship program managers are responsible not just for awarding scholarships to students, but also for managing the entire program - from beginning to end. For better or worse, it can be a complex and time-consuming process. That's why it's important to find software that can make the tasks you'll inevitably be responsible for easier to carry out. Blackbaud Award Management is one option that scholarship program managers may be considering. In this post, we'll explore Blackbaud financial aid management's features and help you decide if it's right for your program.
What is Blackbaud Scholarship Management?
Blackbaud scholarship management, also referred to as Blackbaud financial aid management, is an award management solution that is designed to streamline the financial aid process. The software provides a centralized system for managing scholarship and grant programs, and it offers a variety of features to make the process more efficient. For example, the software can automatically generate award letters and notify recipients of their award amount. It also includes tools for tracking payments and disbursements, and it can generate reports to help evaluate the effectiveness of financial aid programs. Overall, Blackbaud's award management solution is a powerful tool that can help simplify the financial aid process.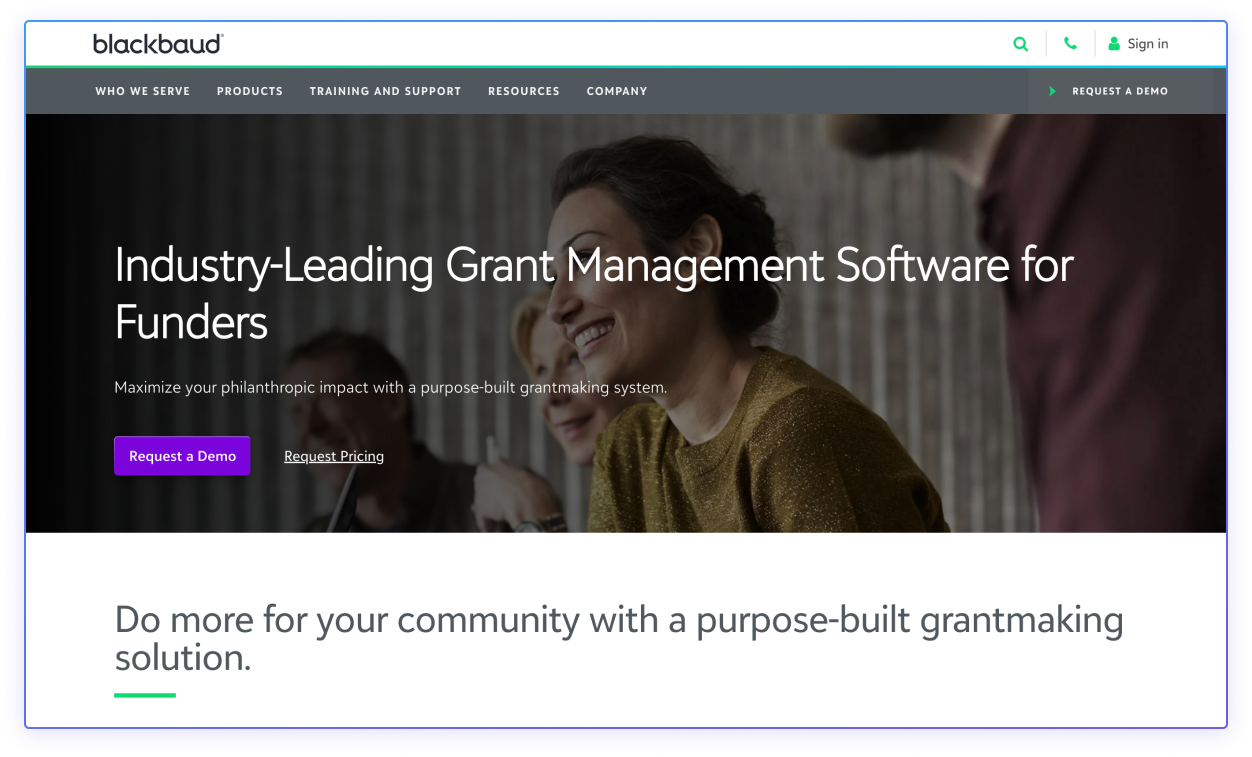 Who is Blackbaud Award Management Most Suitable For?
Blackbaud Award Management software is well suited for medium to large-sized organizations that have access to sizable resources and budgets.If you need a means of simplifying your grant application and award process, this software can help you do that. But, is it the best solution for your scholarship program? Let's take a look at its core features.
Blackbaud Award Management Features
Blackbaud award management software provides a comprehensive solution for managing scholarships and other types of awards. The software offers a variety of features for managing applications and awarding funds. For example, Blackbaud award management software includes a built-in review process for applications, as well as a payment gateway for distributing funds to recipients. Additionally, the software offers reporting tools that provide insights into the effectiveness of scholarship programs. Additional features include things like:
Customizable Forms
Scoring and Commenting
Forms Management
Customizable branding
Reporting and Analytics
Applicant management and tracking
What Does Blackbaud Financial Aid's Pricing Look Like?
Unfortunately, this data isn't public. While Capterra reported that Blackbaud pricing begins at $119/month, the company's scholarship management software page stated that they have not provided pricing details yet.

Blackbaud Award Management Alternatives
While you might be interested in Blackbaud's software, if you're like most scholarship program managers, you're shopping around. Blackbaud Award Management alternatives include, but aren't limited to - SurveyMonkey Apply, Good Grants, and SmarterSelect. As for the best alternative to Blackbaud Award Management, we believe SmarterSelect is exactly what you're looking for. SmarterSelect is the best alternative because it has a low price point, great features, and an easy to use interface. Anyone can get started with little onboarding required, which makes it a great choice for organizations that are new to award management software.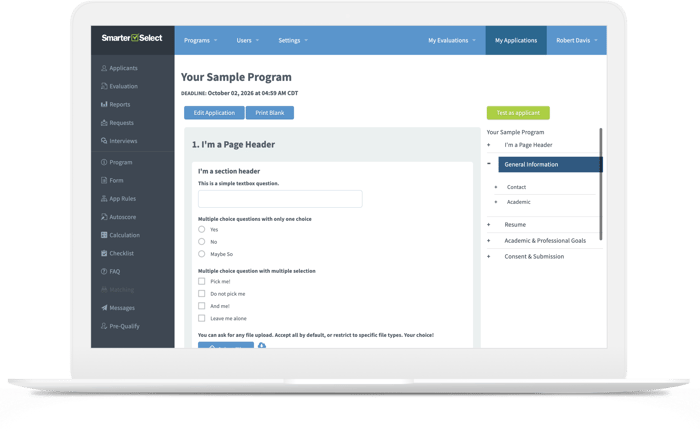 SmarterSelect's Features
SmarterSelect helps you manage the entire scholarship process from start to finish. With SmarterSelect, you can easily create and manage scholarship applications, track scholarship payments, and review scholarship recipient information. SmarterSelect also offers a number of features to help you automate the scholarship process. For example, you can set up automatic reminders for scholarship deadlines, receive real-time updates on scholarship status, and create scoring rubrics that help you filter the applications to deliver the best pool of candidates. Ultimately, SmarterSelect provides everything you need to run a successful scholarship program. See our full list of features here.
Conclusion and Next Steps
Blackbaud Award Management Software and SmarterSelect are both great options for organizations that need help managing their awards and scholarships. However, SmarterSelect is the best alternative for both seasoned program managers that want to save time and money while streamlining their workflow as well as organizations that are new to award management software. You could continue debating about the best option for scholarship management software, but at some point you should start testing out the solutions available to you. Try SmarterSelect before you buy and find out for yourself why thousands of organizations depend on us. Click here to start your free trial now!